June 23, 2013
Great, great sign at the Uruguay-Tahiti match at the Confederations Cup (via mocksession).
March 27, 2013
I feel that soon FIFA will have to address the clutching and grabbing on set piece defending that has taken over the sport lately. Until then, however, players are left to their own devices to try to quell this. Here's Luis Suarez of Uruguay taking matters into his own hands against Gonzalo Jara of Chile during a corner. As you can see, Suarez is being hugged tightly by Jara, and he decides to retaliate by essentially punching Jara in the face.
Suarez will more than likely face a ban from FIFA for this, but as I said, this mugging in the box on set pieces must be addressed. It's becoming shameful.
Chile won this match in CONMEBOL World Cup qualifying 2-0.
August 2, 2012
Booing Luis Suarez is "against the Olympic spirit" says Amy Lawrence
In the context of the Olympics, a place where relentless cheeriness and an abundance of goodwill is the order of the day, a dose of football tribalism stood out like a cowpat amid all those wild flowers daintily planted at the Olympic Park. Clearly it is asking a bit much to expect year-round football lovers to alter their thinking and change their habits for a couple of weeks during London 2012, but that did not prevent the feeling that football was behaving like a bellicose child at a party where everyone else was embracing the fun. It was all a bit embarrassing.

There is a time and a place for sporting rivalries to get sulphurous – and for many football fans that is a vital part of the attraction and the drama – but this isn't really it.

Suárez himself, and his defenders, appeared to be slightly more cheesed off than they may normally be to hear the flak he can expect to absorb from opposing fans at any Liverpool match. Sebastián Coates, his team-mate for club and country, felt compelled to argue: "It has gone too far," and urged the public to give it a rest.
I'll ask you, tumblr. Is it okay to boo someone like Luis Suarez during an Olympic competition? If John Terry or Rio Ferdinand were playing for Team GB, would you expect them to get booed?
July 24, 2011
Copa America Final: Two Guays, One Cup.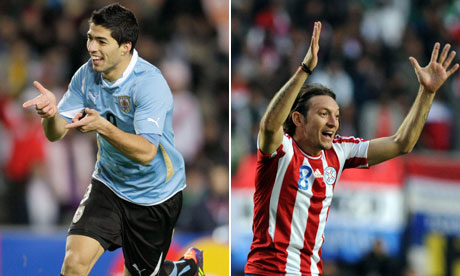 Apologies for the lack of Copa America coverage since Brazil & Argentina went out, first of all. I've been busy and didn't watch either of the semis or the 3rd place game yesterday. Congrats to Peru, first of all, and also to Venezuela for making such radical improvements in their game.
Here is the basic problem and essential delight about today's final in Argentina: it's solid, well-structured, attacking football (Uruguay) against the brutalist defensive mentality (Paraguay). To be fair to the Paraguayans, injury's largely left Gerardo Martino not choice — Roque Santa Cruz is the sole forward with any creative skill and he's out with an ankle injury. That plus the amazing ability to concede late goals for ties in the group stage pushed Martino to return to the same route that got his side to the quarters in South Africa last year: protect the penalty area, trust in captain and keeper Justo Villar, move from there. If they win on penalties today, Paraguay would win its first Copa America since 1979 without actually winning a game.
Uruguay will probably have the support of the neutrals watching, with familiar names such as Luis Suarez, Diego Forlan, Edinson Cavani and Fernando Muslera as well as an ability to go from defensive stalwarts to attacking force. The beauty of Oscar Tabarez's second reign in charge of his native country's side is the tactical flexibility at his disposal and the depth — when Cavani, who tore up Serie A last year is coming off the bench for the final, you've a deep team that's primed to take its 15th Copa America (currently, they're tied with Argentina, who's also won the tournament 14 times.)
Starting XIs:
Uruguay: Muslera; M. Pereira, Lugano (C), Coates, Caceres; Gonzalez, Perez, Rios, A. Pereira; Forlan, Suarez.
Paraguay: Villar (C); Veron, da Silva, Alcaraz, Piriz; Barrera, Ortigoza, Riveros, Estigambia; N.H. Valdez, Barrios.
Martino is gambling by putting both Ortigoza and Estigambia in — they're more attack-minded, but without Santa Cruz he needs creativity somewhere. Uruguay are just creative enough to eke out the goal or two necessary to win this without penalties, so I'll say 2-0 and hopefully no extra time involved.
WHO YA GOT?
July 17, 2011
If fro any reason you hold animosity toward Carlos Tevez (specifically, for his annoying transfer request saga), the PK he took for Argentina in the Copa America quarterfinal against Uruguay will keep you full of schadenfreude for a few days.
The end of a rousing match in which both squads lost a man to double yellows (Argentina's being a little bit on the specious end) came from the penalty spot, and Tevez was the sole participant to botch his attempt. To be fair to Fernando Muslera, let's acknowledge that the Uruguay and Lazio keeper had an absolutely sensational match, one that ought to spark some serious transfer rumors. It was capped by his save of Tevez's spot kick here, which effectively eliminated the host country from the tournament.
(Of course, Argentina being Argentina, somehow the blame will be laid on Lionel Messi despite the fact that he had a solid game by all accounts.)
(via Muslera stonewalls Tevez, seals 'a national failure')
July 10, 2010
Sami Khedira scored his first international goal today, and they don't get much bigger than this one.
July 10, 2010
The Crossbar of Doom victimized Ghana's Gyan in the quarter-final, and today it ended the medal dreams of Diego Forlan and Uruguay. Still quite a strike, and one that clearly terrified Germany's Dennis Aogo.
July 10, 2010
The final free kick left him inches away from immortality, but Diego Forlan has cemented his status as a legend. Keep those arms open, Diego, for the world is ready to hug you right back.
July 10, 2010
Marcell Jansen heads one in, as Fernando Muslera just barely mistimes his leap, and Maxi Pereira just isn't quite tall enough.
July 10, 2010
Diego Forlan:
Master of the Jabulani, and this contributor's pick for the Golden Ball award.
There's precedent for the Golden Ball winner to come from a team that missed the final, and Forlan more than anyone else has elevated his team beyond any reasonable expectations.
July 10, 2010
Diego Forlan continues his month-long Jabulani clinic with an amazing goal, his fifth of the tournament. The goalkeeper didn't move, and really, who could blame him?
July 10, 2010
"I don't care if everyone is booing you, Luis! Put the ball in the net!"
July 10, 2010
Following his teammate's example, Uruguayan superstar and heartthrob Diego Forlan (AKA "He who silenced the vuvuzelas") opts to show off his under-thigh area, rather than his usual chest-baring.
July 10, 2010
Edinson Cavani celebrates his first goal of the tournament by flashing some thigh for the ladies.
July 10, 2010
Bastian Schweinsteiger makes a bad giveaway at midfield, and Edinson Cavani takes full advantage with a great equalizer. There goes Germany's lead, and there goes Schweinsteiger's slim chance at the Golden Ball.
Despite fatigue, injury, and incessant boos from the crowd, Uruguay absolutely refuses to give in. Most resilient team of the Cup?